Thomas Pinney's new book
The City of Vines: A History of Wine in Los Angeles
is the first, definitive guide to what happened - mostly in the 1800's - in Los Angeles, the first city of wine in California - a chapter of history that has escaped notice by most of us today.
Two years ago, on what was meant to be a quick trip to LA, I decided to spend two days in the Cucamonga Valley, visiting wine history sites including
Galleano winery
(certified organic vines) and
Rancho de Philo
(not organic but equally historic) - both of which I consider to be national wine history treasures. (If this was the East Coast, they'd be treated with the same reverence as Sturbridge Village.)
Two days turned into two weeks - the whole area and its wine history was entrancing.
I traveled to Mission San Gabriel and several other Missions and photographed
Ramona
, the mother vine. I went to
Galleano
, near Riverside, three times. I wandered on foot next to freeways, looking at 100 year old dry farmed vines, certified organic, that went into ethereal $20 Zinfandels that no one has ever heard of.
Galleano's historic Jose Lopez Vineyard: the vines by the freeway are nearly 100
years old and made delicious wines. Certified organic and dry farmed, they grow
to just 18 inches high.
I developed my taste for sherry, and learned about the pleasures of Rancho de Philo and Galleano's award-winning sweet wines and this year purchased a case of the Rancho de Philo. I'm getting an order ready for the Mary Margaret from Galleano now. Both have won international awards in London and elsewhere around the globe.
Rancho de Philo sherry
Here was a forgotten river of history...New World winemaking from Germans, Italians, Spaniards, Native Americans, Englishmen and the French dating back to the 1830s. And who knew about it? Not my big wine writing friends at the LA Times. Not Food & Wine magazine. Not my wine loving friends in Santa Monica and Venice.
Union Station was built over what used to be vineyards.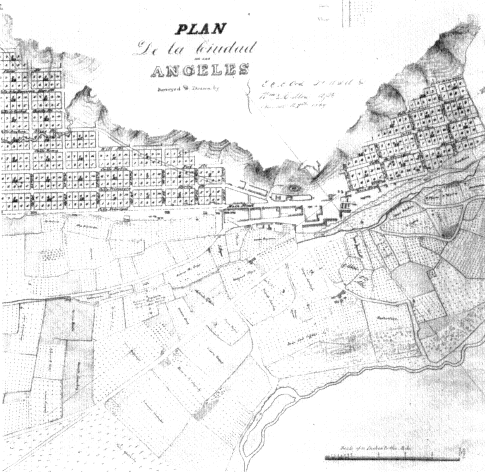 Los Angeles was mostly vineyards as you can see in this 1848 map
On that trip, I bought a beautiful map by
Michael Hart
, the former vice president and general manager of the Sunny Slope Water Company in Pasadena, who, when he retired in 2008, spent three years researching and making maps of the early days of the region. A few of his works are on display at Mission San Gabriel.
An understanding of water sources was critical to the history of the winemaking.
So it was a great pleasure to read Pinney's book, which is a way into this world for the average reader who doesn't wish to devote two weeks of driving around the greater LA area in search of history (although I recommend that and would be happy to guide anyone who was interested on such a trip, for a small fee).
Here are
8 things I learned
from Pinney's book.
1. LA Had a Grape Arbor a Quarter of a Mile Long
Bordeaux native Jean Louis Vignes, early LA's most famous and venerable winemaker, had never intended to come to Los Angeles nor to pursue winemaking in the New World, but instead had spent five years in Hawaii.
By 1833, he owned 104 acres in the heart of the city. His great vineyard was called El Aliso, after the giant, 400 year old sycamore on his site.
Pinney writes that
El Aliso featured, "an arbor covered in vines that ran a quarter of a mile down to the river through the vineyard. This was one of the public attractions of the town..."
2. Bird Control = Slingshot + Stones
Keeping birds from eating the grapes was a tedious job. As Pinney tells us in a quote from Captain Phelps, who visited in 1842, "I observed...a scaffolding on which an Indian boy is stationed in the morning and remains throughout the day with
a hat full of stones and a sling
, with which he keeps away the crows and blackbirds who would otherwise destroy half the crop."
In addition, Angelenos had to fend off wolves, foxes and squirrels from their grapes.
3. California's Role as the Nation's Supplier of Wines Was Well Underway in the mid 1800s
By 1858, Kohler and Frohling (who later occupied the Glen Ellen estate of Jack London before the famous writer bought it) had already begun to make inroads into selling in major cities on the East coast.
4. Prohibition = Record Prosperity for Wine Grape Growers with Sales Doubling
Before Prohibition, commercial wineries made 55 million gallons of wine a year. During Prohibition, commercial growers sold enough grapes for home winemakers to make more than double that amount - 111 million gallons.
That number grew exponentially during Prohibition. Pinney writes, "In 1920, the first year of Prohibition, 26,000 cars of fresh grapes left California; by 1927, the peak year the count was 72,000 cars."
Not only that, but prices went up. "The prices paid for these grapes was the highest growers had ever received - up to $185 a ton..."
Grape acreage grew in California from 300,000 acres in 1920 to nearly double that amount - 577,000 acres - by 1926. (Today, acreage is around 550,000.)
Pinney writes, "twice as much wine was made at home as had been made commercially...
As one wit put it, America might have become a wine drinking country if Prohibition had lasted long enough."
5. Prohibition Led to the Growth of the Central Valley as a Wine Growing Region
The boom in grape growing mostly took place in the Central Valley, where, Pinney writes, "new vineyards were limited only by the availability of water."
6. Prohibition Led to Quantity Over Quality
Hence, Alicante Bousquet gained in popularity, as it produced grapes in abundance.
7. Italians Dominated the Industry Only After Prohibition
No one knows why.
8. Whiskey Production Limitations During WW2 Led Distillers to Buy Wineries and Market Wine Through Advertising
Pinney: "Historically the distillers had no interest in the winemakers. That suddenly changed when the government directed that all whiskey production would cease on Nov. 1, 1942, and the distilling capacity of the whiskey firms devoted to producing industrial alcohol...
By 1943, the distillers were the biggest players in the California wine game."
"After the war, the distillers got out of the wine business rather quickly," but they created the expensive advertising that promoted California wine, an enduring legacy. "They had money and used it to promote wine as no one in California had yet done, by print, outdoor, and radio advertising.
Americans, even in those many regions essentially unacquainted with wine, now had wine thrust upon them."
I've touched upon only a few moments in the book, which is filled with revelations that will surprise and delight. Resolve to read it in 2018.
Postscript: I should also mention that Pinney is the author of UC Press book A History of Wine in America, another definitive history of wine. The second volume of that book won a prestigious award from the International Association of Culinary Professionals as the best book on wine, beer and spirits.
In addition, The City of Vines received a best book award from the California Historical Society.
And, of course, throughout most of this history, pesticides were not used (until after about 1945).