At the annual
Wine Australia
tasting this year, held at The Pearl, it wasn't easy to find the organic producers (no printed indications or even A-Z lists in the handouts), but after a lot of asking around, I located three, all from the McLaren Vale region outside of Adelaide, one of the oldest and most well established of Australia's 65 wine areas. Twenty two regions were represented at the event.
Like many a New World wine region, Australia's focus on higher end - and higher priced - wines in the last decade was evident. Aussies have clearly moved up - and it's not just to the Penfold stratosphere.
I found a lot to like with excellent value in $20-30 wines from organic producers' vines, making Australian wines a top choice for consumers.
Mark Davidson of Wine Australia with Phillip Anderson of Mountain People's Wine
1. Angove
Organic acres: 503
Organic since 2008
A giant in the Australian wine industry and one of the country's largest organic producers, Angove was founded by a Cornish immigrant who first harvested grapes in 1893. The fifth generation of the family has now begun to manage the winery.
Angove's organically grown wines range from $25 bottles (Angove Family Crest brand) to $75-100 upscale wines from its Warboys Vineyard (Angove McLaren Vale brand). It's also recently expanded into the Riverland region, buying a large chunk of vineyard acreage there.
The winery's low end Shiraz and Rhone GSM blend and high end Shiraz and Grenache impressed.
The wines are imported into the U.S. by Trinchero and are available on
wine.com
.
2. Spring Seed Wine Co.
Organic acres: 70
Organic since 1995
2017 Forget Me Not Sauvignon Blanc Semillon $20
This white Bordeaux blend has 57% Sauvignon Blanc and 43% Semillon. Grown in a Mediterranean climate, it's a refreshingly unique white wine that's a change of pace from white Bordeaux from Bordeaux. Very few in the U.S. make a Sauvignon Blanc-Semillon blend. (Volker Eisele's Gemini from Chiles Valley in Napa is one.) So if you want to try a wine that's off a little bit off the beaten path but from a very good producer (and organic since 1995) this is a good choice.
Fun fact: the wine is available with three different labels (the wine inside the bottle remains the same), with graphics that echo summer seed packets.
Spring Seed has quite a few other wines to try, but they weren't being poured at the event, so I look forward to trying them another time.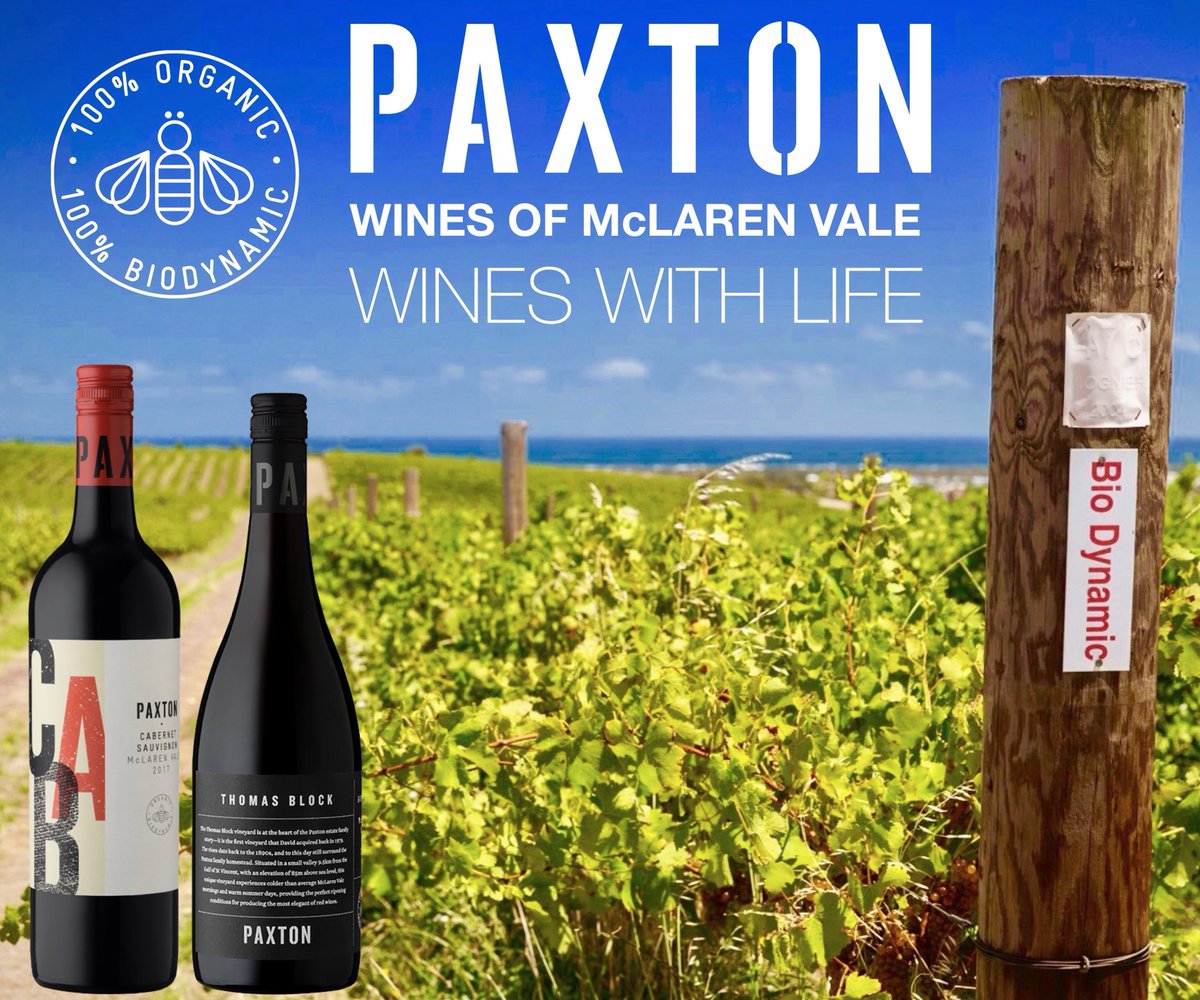 3. Paxton
Biodynamic acres: 300+
Organic and Biodynamic (100%) and certified since 2011
One of Australia's leading Biodynamic producers, Paxton was founded by a first class viticulturalist, David Paxton, who also grows varieties apart from the usual Shiraz and Grenache (including Graciano and Tempranillo), selling grapes to other wineries. The winery's first vintage was in 1990.
Today it is a major producer, with an extensive portfolio and impressive scores as well. Four of the wines rated mid 90's scores from James Halliday and ranged in price from $20 to $30 - very good value indeed.
The marketing gang from Paxton;
global marketing director Brian Lamb is on the right
The winery's new no added sulfite wines - NOW (NOW standing for "Natural Organic Wine") - are available in several varietal bottlings. The NOW Shiraz is sold at some Whole Foods stores in the U.S.
More impressive were the 2017 Cabernet ($20, 94 pts. from James Halliday) and the Shiraz ($20), which were bargains in my book. My favorite was the 2017 Quandong Farm Shiraz, a single vineyard designate ($30).
About 2,000-5,000 cases are distributed by Wine Warehouse in the U.S.